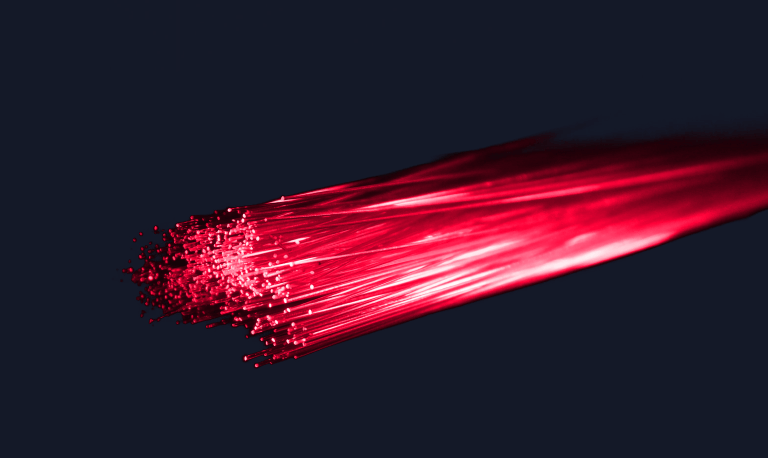 Partnerships
Built for
Progress
To meet today's demands and tomorrow's
opportunities, you need a provider in tune with
your needs and a robust fiber network you can
count on. That's Frontier Wholesale: your trusted
network, your reliable connection, your partner
for progress.
Reliability runs deep on our fiber network
From the services you offer to the customers you support, reliability is the foundation of every meaningful connection. That's why we continue to invest in our fully owned, fully redundant 180,000-mile advanced fiber network, and why we offer 24/7/365 monitoring through our Network Operations Center.

As the market changes and technologies evolve, we broaden our product capabilities to stay on top of your customers' needs. Because in a world wired for progress, predictability is powerful, agility is essential and clear communication changes everything for the better.
Designed to
power tomorrow
Stretching across 25 states, our advanced fiber network is designed to meet your ever-evolving needs. Whether you're expanding your footprint or strengthening your services, we're committed to helping you reach your customers. Because your success is our success.
The only thing certain about the future is that the networks will continue to be critical to enable the next cutting-edge technology.
Frontier maintains an extensive fiber-based, high-capacity (going up to 100G and 400G speeds) network enabling flexible solutions to transport data across the U.S. Learn why now is the critical time to invest in your network.
READ WHITE PAPER
180,000
miles of fiber as part of Frontier's advanced network

1 Tbps
Over 1Tbps IP backbone utilizes advanced 100G optics across the entire core network

24/7/365
support from the 4th largest wireline provider in the U.S

Resilience starts with
networking expertise
Whether you're extending your footprint or looking to resell our offerings, our experts can help design the right solution for you. We partner with key providers, including:
As demand for mobile applications grows, Frontier's advanced fiber network is where you need it, solving for your fronthaul, mid-haul and backhaul options. As your business partner, we provide you with the reliability of keeping your customers and endpoints connected, and failover options to protect your data-intensive wireless needs—all to help you stand out and deliver.
Providing your enterprise customers with state-of-the-art solutions requires the right network. Frontier's deep fiber footprint keeps them connected where they are and brings your portfolio of solutions to the customers who need them.
Your customers depend on you, and you need a network you can depend on. Frontier's expansive fiber network helps you quickly turn around solutions directly to your customers and helps maintain your reputation as a trusted provider.
Your bold vision is driven by your end users' demands. And it's up to you to balance tech investments with a cost-effective approach. Whether it's cloud and storage or network infrastructure, Frontier's reliable metro services expand your reach without breaking your bottom line.
Not all providers can invest in building their own facilities. Frontier Wholesale is a cost-effective alternative with local recognition and reliable network solutions that help you reach your commercial and residential customers.


Meet your new business partner for progress. Connect with a Frontier Wholesale specialist today.
By clicking "submit", you consent for Frontier and partners to use automated technology, including pre-recorded messages, cell phones and texts, to contact you at the number provided. This includes if the number is currently on and Do Not Call Lists. This consent is not required to make a purchase.